The Mantua Grove Community Advisory Panel (CAP) has been in existence for over twenty years. The panel is based in West Deptford Township, New Jersey and is comprised of a mixture of corporate representatives, neighbors and community leaders. The corporate representatives on the panel are from the Colonial Pipeline, COIM, Johnson Matthey, West Deptford Energy, Solvay Speciality Polymers, BOSTIK, and Energy Transfer Partners facilities that are located within the local area.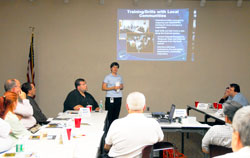 The Panel meets eight times per year at the Riverwinds Community Center in West Deptford, NJ with each meeting focused on a different theme. Panel members suggest the themes for the meetings and a speaker is invited to make a presentation on the topic. The themes for the meeting must be community focused. Half the meetings are focused on company in-depth presentations or site facility visits. At each meeting, the plant representatives (usually the plant manager) report on past events at their facility along with future plans.
Some past speaker presentations included: Security & ID Theif, History Col GG Green Lab, Behavioral Safety Program, Family Promise of GC, Rowan University STEM program, West Deptford Environmental Resource Inventory, History Fort Mott.

Each summer each panel member may invite a guest to accompany the CAP on an evening activity. We look for activities that are both educational and entertaining. Past activities have included dinner and tour of the NJ State Aquarium, a tour of a tall ship, boat excursions on the Delaware River, tour of a local winery, a trip to a dinner theater and a ride on the Wilmington and Western Railroad.
We average about 25-30 members in attendance at each meeting and often include along with the corporate reports, reports from the local volunteer and governmental agencies.
The panel was initially begun by the Nalco Chemical facility Manager and was soon joined by the neighboring Huntsman Polypropylene facility. Soon thereafter, ICI joined, followed by Johnson Matthey, Lilly and Ausimont (now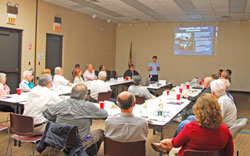 Solvay Speciality Polymers). Eventually some of the facilities closed and others joined the CAP. The current makeup of the CAP is Colonial Pipeline, COIM USA, West Deptford Energy, Johnson Matthey, Solvay Speciality Polymers, and Energy Transfer Partners. Most recently Bostik of West Deptford NJ joined the Mantua Grove CAP in late 2019.