BOSTIK
2000 Nolte Drive, West Deptford, NJ 08066
856-848-8669
www.bostik.com/us



The Bostik, West Deptford, NJ plant manufactures various cementitious and water-based adhesives, leveling compounds, and grouts for the construction industry. The site is ISO 9001 Certified and employs 43 people.
Bostik was founded as the Boston Blacking Company in Chelsea, Massachusetts in 1889. By Late 1920s this pioneer for the footwear industry had expanded across three continents and employed over 1000 chemist and technicians. In 1929 United Shoe Machinery acquired Boston Blacking and the chemical division was then known as Bostik Chemical Group. After several mergers Bostik became the official Brand name of the company. Today our worldwide operation in industrial, consumer and construction markets spans 40 countries with 4900 employees and sales of about 1.5 billion euros.
In February 2015, Arkema finalized the acquisition of Bostik. With this acquisition, the Group reached a new milestone in its development, confirming its ambition to become a world leader in speciality chemicals and advanced materials.
COIM USA
286 Mantua Grove Road, West Deptford, NJ 08066
856-224-4777
www.coimgroup.com
The West Deptford facility was purchased from Huntsman Polyurethanes in March of 2005. The site consists of a 30 acre track of land of which 15 acres remain agricultural farm land.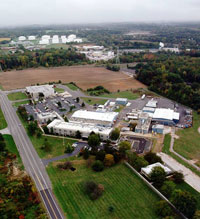 COIM USA Inc's parent company, COIM S.p.A. of Milan / Italian has, in addition to the West Deptford site, manufacturing facilities in Italy, Brazil, and Singapore.
COIM USA Inc has made extensive improvements to the site since acquired from Huntsman. These include upgrading utilities and fire prevention systems, installation of new reactors, storage tanks and laboratories.
The site has two separate chemical manufacturing sites. A state-of-the-art adhesive and pre-polymer unit located in one of the existing buildings as well as a brand new polyester polyol unit.
These manufacturing units support the current three product lines: Novacote Adhesives for flexible packaging, Diexter Polyester polyols for flexible foam, C.A.S.E and Imuthanes pre-polymers for hot-cast elastomers. These businesses are supported by research/ development and application laboratories.
The site has approximately 45 to 100 employees residing in the local area.
COIM USA Inc will further expand it's overall operations at the site through the expansion of existing and new businesses related to it's core Polyurethane technology.
COLONIAL PIPELINE - Woodbury Junction Tank Farm
696 Mantua Grove Road, West Deptford, NJ, 08066
856-202-4050
www.colpipe.com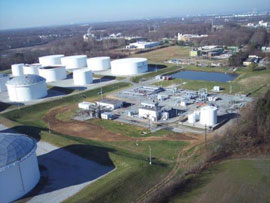 Woodbury Junction is a refined petroleum liquids tank farm located in West Deptford, New Jersey. The facility consists of 19 tanks for storing products such as heating oil, diesel fuel, kerosene, jet fuel and gasoline. Woodbury Junction is a hub of underground pipelines which helps supply the tri-state area with fuel. The facility operates 24/7. The four pipelines that carry products to and from the facility consist of a 30 inch Mainline which runs from Greensboro, NC to Linden, NJ, a 10 inch Philadelphia line which serves four Philadelphia area refineries, a 10 inch Paulsboro line which serves Valero and Pacific Atlantic and an 8 inch Eagle Point line which serves Sunoco.
Transporting petroleum products through pipelines is much safer than the alternatives of trucking it via roadway, barging it on the water or hauling it via railways. Colonial does not own the products that we ship we are simply a transportation service provider. Colonial Pipeline is regulated by the DOT and PHMSA as well as environmental entities such as the NJDEP.
The facility employs 30 employees all of whom are certified annually in both safety and emergency response training.
JOHNSON MATTHEY
2001 Nolte Drive, West Deptford, NJ 08066
856-384-7151
www.matthey.com
The West Deptford facilities represent business units within the Fine Chemicals and Catalysts Division of Johnson Matthey.
The plant, commissioned in 1983, manufactures Platinum Group Metal catalysts and chemicals as well as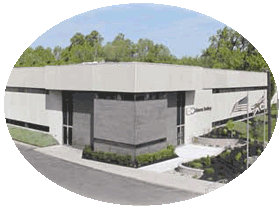 refines precious metal bearing material.
The facility employs approximately 300 people.
Our Products
The applications of Johnson Matthey's diverse product portfolio includes products for use in:

Plating

Aircraft engine blades to enhance their ability for withstanding extremely high temperatures.

Environmental

Catalytic converters washcoats to reduce NOx emissions

Coatings

Silicon production of adhesive releasing agents found in products such as Post It

TM

notes
Electronic components for devices such as iPods

TM



Our Commitment
Johnson Matthey is committed to operating in a manner that respects the environment and makes positive contributions to the community. Our employees proudly participate in community events which include:
• American Cancer Society Relay for Life
• Sponsor over 30 less fortunate families at Christmas
• Volunteer in Community Service roles
• Financial contributions to many local youth programs
We strive for continuous improvement as is evidenced by the accomplishments of our Green Team. Through their efforts in only a few short months, we have reduced water consumption by recycling 750,000 gallons per year; paper reduction of over 50 reams through paperless meetings; installation of timers on lab equipment, resulting in approx. $40,000 of energy savings per year.
We take great pride in the numerous quality and environmental awards and certifications that we have received including the prestigious Superior Award from Toyota for 100% on-time delivery with impeccable quality for the past ten years.
Solvay Speciality Polymers (Solutions Excellence In Science)
10 Leonard Lane, Thorofare, NJ 08086
856-251-6625
www.solvaysolexis.com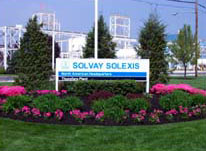 Building on our scientific, technical and commercial expertise, we safely and responsibly provide innovative products and services related to chemistry and human health to create ever-increasing value to our customers, shareholders and employees.
In all of our endeavors and in every task, we strongly embrace our values of customer care, ethical behavior, teamwork, empowerment and respect for people.
Solvay Speciality Polymers, Inc. produces fluoropolymer resins with high temperature endurance and outstanding chemical resistance and purity, as well as excellent fire-propagation and weathering resistance.
Our high-performance resins are converted into protective coatings or corrosion-resistant materials for diverse industries such as semiconductors, telecommunications, chemical processing, pharmaceuticals, and aerospace.
We also manufacture fluoroelastomers designed for demanding sealing applications including automotive, semiconductors, and petrochemicals.
Our world headquarters is located in Bollate, Italy where we produce fluorinated fluids, fluoroelastomers, PTFE, and other fluoropolymers. We have affiliates with manufacturing, R&D, and commercial offices throughout the world.
Our North American headquarters are located in Thorofare, New Jersey. We also have operations in Marshallton, Delaware and Orange, Texas.
Prior to the 1960's (1940-60), the parcel of land by the Delaware River that we now know as home was farmland. A farmhouse and out buildings occupied the area along River Road.
From 1961 to 1969, The National Steel Company used the land as a lay down yard and storage area for steel products.
In the 1970's Pennwalt Corporation built and operated a plant producing refrigerant gases, however, declining market conditions caused plant closure until Pennwalt re-tooled and began operation as a fluoropolymers manufacturing facility in 1985.
The facility was sold to Atochem, North America in 1990 and subsequently sold again by order of the Federal Trade Commission to Ausimont SpA in 1991. The plant was operated under the management of Ausimont USA. Inc. from 1991 to April 2002.
Ausimont was acquired by Solvay in April 2002 and we are now a member of the Solvay family of companies headquartered in Brussels, Belgium.
Currently located in Thorofare are our administration, commercial operations, research & development and our ISO-9001 certified manufacturing facility. We employ 158 people in Thorofare.
We are supportive of our host community through charitable organizations within the community including the United Way, Gloucester County College, West Deptford Schools, Police Athletic League, Local Sports Clubs and our Emergency Response Organizations.
Energy Transfer Partners – Eagle Point Tank Farm
1240 Crown Point Rd, Westville, NJ 08093
856-853-3158
www.energytransfer.com
The Energy Transfer Partnership Eagle Point terminal, located in Westville, NJ on the banks of the Delaware River near Philadelphia, PA is a 6.8 million barrel refined product and crude oil terminal including a dock facility, a truck rack, pipeline access, gasoline blending manifold, and rail access. The terminal receives, stores, blends, and distributes: crude oil, ethanol, gasoline, gasoline components, Naphtha, ULSD, heating oil, jet fuel, distillate components, vacuum gas oil, and has the capability to distribute chemicals. The docks match the Delaware River capacity with drafts up to 40 feet and can accommodate vessels as large as a typical Suezmax tanker.

The Eagle Point terminal can receive and deliver products to a number of third party pipelines including:
Colonial Pipeline – Inbound & Outbound

Laurel Pipeline – Outbound

Sunoco Pipeline – Inbound & Outbound

The Eagle Point terminal can access the following markets:
Philadelphia and Southern NJ area via truck rack

PA / NY terminals via Sunoco Pipeline, Laurel Pipeline and Buckeye Pipeline

New York Harbor and Northern NJ terminals via pipelines (Harbor and Colonial Pipelines), ship, and barge

Buckeye system via pipelines (Harbor and Colonial Pipelines)

Baltimore via ship or barge

New England via ship or barge

European and other overseas export markets via ship

The rail capabilities at Eagle Point can offload 132 cars per day by utilizing 44 offload positions, or a unit train every day. In addition, rail has crude barge capacity outbound and can supply the following refineries:
Philadelphia Energy Solutions (Philadelphia)

PBF (Delaware City and Paulsboro)
Monroe Energy (Trainer)

Phillips 66 (Bayway)
We are continually upgrading the terminal's infrastructure and operational flexibility to meet market needs.
West Deptford Energy
3 Paradise Road, West Deptford, NJ 08066
www.perennialpower.net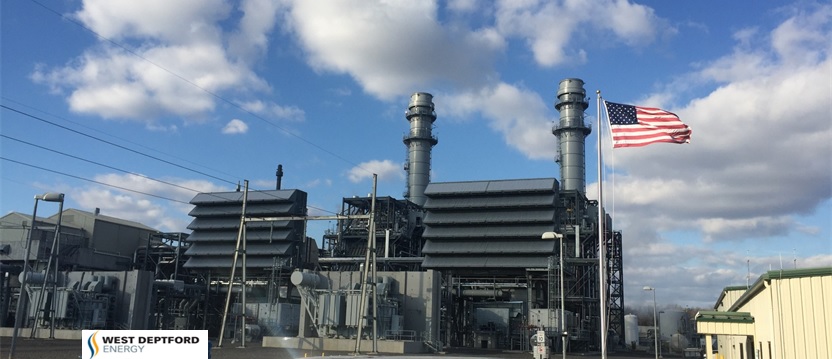 In 2016, Perennial Power acquired interests in West Deptford Energy Holdings, LLC, which owns West Deptford Power Station, from an affiliate of LS Power Group, a power developer in the United States. LS Power affiliates continue to participate in the West Deptford Power Station as a fellow owner and as the project's operator.
West Deptford Power Station is a natural gas-fired combined-cycle power generation facility with a capacity of 751 megawatts. Since its commercial operation in November 2014, it has supplied power to the northeastern part of the PJM in the United States (Pennsylvania-New Jersey-Maryland). PJM has the largest wholesale electricity market in North America. West Deptford Power Station is well positioned as one of the most advanced power sources in northeastern PJM and is expected to play an important role in maintaining a stable and environmental friendly power supply in that region at a time when there are many anticipated retirement of coal-fired and nuclear power stations.